Wow! Kenn's Videos Surpass
11 Million Views!
11,877,252 total views

Click Here To Visit Kenn's Channel

List your home with Kenn and your home will be seen by thousands of potential home buyers. Kenn's video channel is by far the most popular real estate portal in Austin. Call or Text Kenn now at 512-423-5626, or email Kenn@BuyAustin.Com

Register here for:
VidCoaching.Com

Video is an extremely effective way to market your business. YouTube reported a whopping one trillion views last year. Only 12% of businesses and professionals nationwide have a video presence yet 78% of customers want their products and services to have a video presence. VidCoaching.Com trains you how to get started marketing your business with the power of video!

Kenn's 3rd Nationally Published Book!


Kenn's 3rd nationally published book, "Maximum Dream Achievement," co-written by best selling author Eddie Smith is now available for sale. Kenn Renner and eddie Smith provide twelve practical steps that you can take to identify and accomplish what God has placed you on Earth to do. With prayer, persistence and patience, along with Christ and His Holy Spirit, you can live and enjoy a purpose-full life.

---

Buying or selling a home? Or do you have an event you'd like Kenn to speak at? Schedule him NOW by emailing him at Kenn@BuyAustin.Com

Kenn's 2nd Nationally Published Book!


Kenn Renner's "Power Goals" is available now available in paper back, audio book, and e-book! Visit PowerGoalsBook.Com to purchase this book for as low as $7.77. Also available at Amazon.Com and other fine retailers.

---

Kenn's First Nationally Published Book!

Kenn's nationally published book Home Buying Secrets Revealed is available now! Meet with Kenn in person and he will give you a complimentary copy. Call/Text Kenn today! 512-423-5626

---

---

| | |
| --- | --- |
| | |
| | |
| Watch Kenn Renner leading this Home Buying Crash Course at KPLE-TV studios in Killeen, TX. Kenn is available to teach your group how to become first time home buyers - contact him at 512-423-5626 today! | Kenn has appeared twice as a guest host real estate expert on Real Estate Radio on KLBJ, the #1 Radio Station in Austin. Click the above link to watch the video. |

---

Urgent Message From Kenn:


You have found one of Austin's most popular websites and I thank you. Real estate is still a very relational, personal business however. Visitors like you visit my website and see all the exciting events on my schedule and think "He's too busy for me." Far from the truth! Please, let me tell you that "you" are the lifeblood of my business. "You" deserve the best in real estate services and I need you! It all starts with initial contact. Whether you are purchasing your first home or selling a multi-million dollar estate, I want to talk with you. Calling me is quick, texting me is even quicker. Email is great too. Whatever way we connect, I respect your time and value your business. Your requirement for the highest level of service, expertise, and integrity starts when you contact me, Kenn Renner, Austin real estate expert with over 25 years real estate experience, contact me - ASAP.
Thanks,
Kenn


Kenn@BuyAustin.Com
512-423-5626 (Call / Text)

---

---
Looking for a home? You can use Austin's #1 real estate search engine and search all Austin Homes Listed For Sale in the Austin MLS (Multiple Listing Service) You can even customize your search and have Kenn automatically send you email notifications of new listings and price drops in your chosen search area.
Notice: Searching for and purchasing a home is one of the biggest financial decisions you can make in a lifetime. You should not attempt it on your own and you do have the right to representation – call
Kenn Renner, Austin Broker – (512) 423-4626 – Call/Text anytime
Welcome to BuyAustin.Com Austin, Texas' premier real estate website featuring in-depth knowledge and resources for those seeking to buy, sell or invest in Austin Real Estate and surrounding areas of Central Texas. Kenn is one of Austin's Top Ranked Real Estate Brokers with over 25 years experience. He has closed over $200 Million in real estate transactions since 1983. He is a recognized National Speaker on the subject of real estate & finance and is currently in the process of publishing two books on the subject of real estate and goal achievement. As a top Austin Real Estate Agent and Expert he guides his clients through the home buying and selling process with the highest level of service, expertise and integrity (T.R.U.S.T.). As one of Kenn's clients you also have access to his network of Trusted Advisor Professionals (T.A.P.).
Kenn offers hands on assistance to Austin First Time Home Buyers through a foundation of education and care, communication and competency. His Austin Move Up Home Buying clients receive benefit of his Move Assistance Programs (M.A.P.s) which helps them garner the highest price for their current home and receive huge discounts on the purchase of their next home. Kenn assists luxury clients with sophisticated use of video and website technology as well as intense Search Engine Optimization (SEO). The Austin Luxury Home Sales market requires expert marketing and "outside-the-box" strategies.
He is also an expert on Austin Real Estate Investments having sold over 400 investment homes in the central texas region.
Many of Kenns clients first meet him at many of his free Educational Events including Austin's #1 Home Buying Seminar series The American Dream Seminars.
He also records the seminars on video and audio and posts them on his website – www.BuyAustin.com
Kenn Renner is a Local Austin Expert with a National Presence. He is a guest expert on local and nationally syndicated radio shows and he has been featured more than a dozen times on HGTV's #1 Rated Show "House Hunters"
Kenn is available and ready to discuss your real estate needs – contact him today at kenn@buyaustin.com or (512) 423-5626 call/text
---
BuyAustin.Com's Most Popular Links (Most Popular Links in Red)
---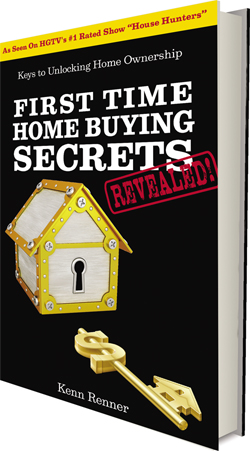 For a limited time, Kenn is giving away free copies of his new book First Time Home Buying Secrets.
Click here to recieve your free copy today!